Accidents are an unfortunate reality of life, and they can happen to anyone at anytime. Countries have implemented various insurance schemes to mitigate the financial and health-related consequences of accidents. Germany, with its strong social welfare system, is no exception. In this article, we will explore the intricacies of accident insurance in Germany, also known as "Unfallversicherung." And how it plays a crucial role in protecting its citizens' well-being and financial security.
Accident Insurance in Germany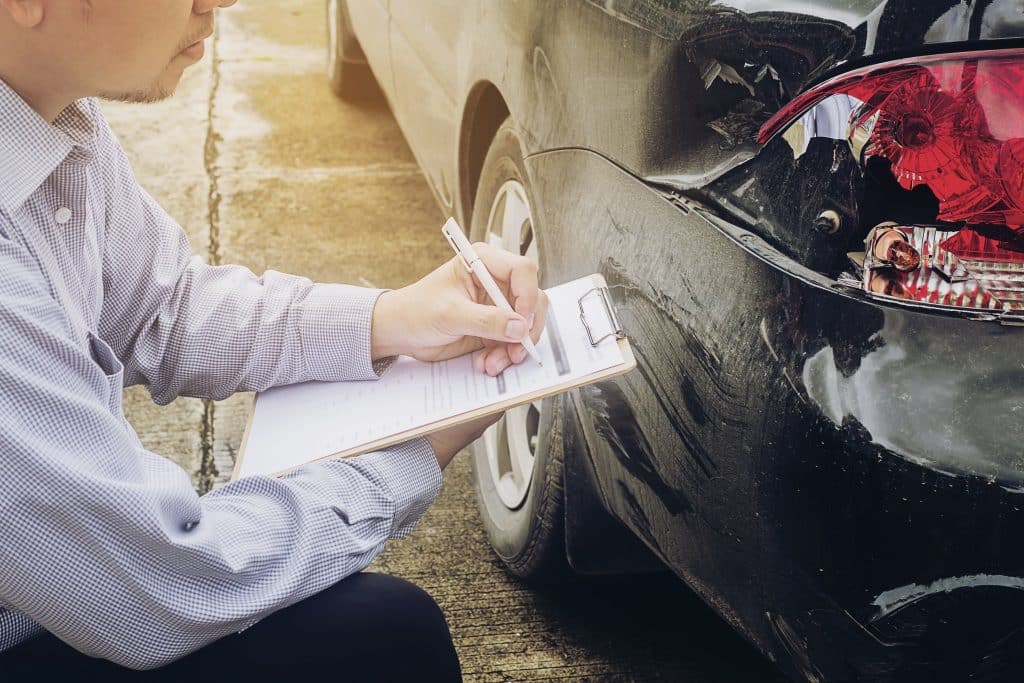 The German Statutory Accident Insurance, sometimes known as workers' compensation, is one of the country's oldest types of social insurance. And Germany passed a law establishing occupational accident insurance in 1884.
A federally mandated program now covers workers. This covers illnesses or injuries contracted while working or travelling to and from their jobs.
This programme covers wage earners, apprentices, household assistants, and students, including kindergarteners. Nearly all independent contractors can freely enrol in insurance. The German workers' compensation laws are the first of its type.
Accident insurance aims to ensure that individuals who suffer injuries or disabilities due to accidents receive the necessary financial support and medical care to facilitate their recovery and rehabilitation.
German compensation system in the modern era
Today, every employee in Germany is a member of a workers' compensation institution (Berufsgenossenschaft). And practically all independent contractors have the option to join the institution as insured members voluntarily. Using updated occupational credentials and vocational retraining as major initiatives, the members have a return-to-work rate of about 90%.
The program covers all mishaps at work or during the commute there and back. Additionally, it provides coverage for 80 illnesses categorized as occupational ailments.
Employers pay for the workers' compensation program, with the exception of government coverage for students and children and a government subsidy to the Agricultural Accident Fund. 2019 saw an average employer contribution of 1.14% of payroll.
Workers who have been hurt have a right to appeal to their institution's committee. The Sozialgericht court is the next stage of appeal following the committee. The worker incurs no cost in filing an appeal with the German Social Courts (Sozialgerichte).
Occupational Accident Insurance Coverage
The German system for occupational health and safety has a dual structure. It includes state-level (federal and local) health and safety programs as well as independent accident insurance organisations. The state (at the federal and state levels) enacts laws and issues regulations and state board regulations. The accident insurance organisations publish their own accident prevention guidelines. After evaluating their needs and receiving clearance from the federal and state governments, they do this.
Representatives of the accident insurance institutions and the applicable state's regulatory agencies (in this instance, Land) supervise and provide guidance to businesses.
The Federal and Land governments and accident insurance institutions devised the Joint German Health and Safety Strategy (GDA). This is to uphold, enhance, and develop employee safety and health through a unified and methodically implemented safety and health policy. Based on mutually agreed-upon goals for safety and health at work, the parties to the GDA will coordinate their activities in the field of workplace prevention even more closely in the future.
The dual system for safety and health at work in Germany will continue. Nevertheless, the supervisory services of the statutory accident insurance institutions and the safety and health authorities of the Länder will further enhance their cooperation in providing advice to businesses and fulfilling their oversight duties.
Personal Accident Insurance Coverage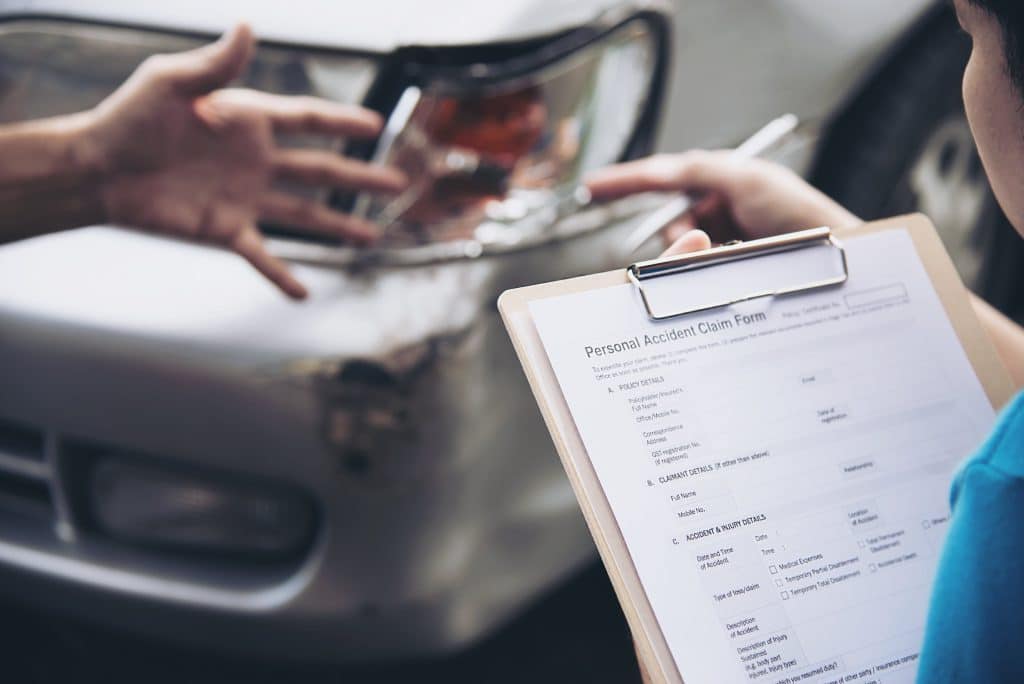 The German Social Accident Insurance covers you automatically if you work in Germany. However, generous accident insurance only offers a small amount of protection. Coverage extends to accidents occurring both at work and during all commutes to and from your place of employment.
Linear benefits cover nearly all accidents, providing compensation up to a 25% level of the costs of loss or impairment.Beyond that, you will have the option of progressive or linear.
Progression simply means that you will receive more compensation in relation to the base amount you have selected if your level of disability is higher. The progression table kicks in at a disability level of 26%. And goes up to the highest agreed-upon progression of your basic amount at a disability level of 90% or more.
For instance, depending on the tariff, you would receive the benefit payments listed below if your insured base amount is $100,000 and your advancement is limited to a maximum of 500%.
Loss Of Finger (10%) – €10,000
Loss Of Smell (20%) – €20,000
Loss Of One Eye (60%) – €160,000
Loss Of One Leg Above Knee (75%) – €250,000
Loss Of One Leg Above Knee (75%) and One Finger (10%) – €350,000
Loss Of Sight In Both Eyes (100%) – €500,000
What You Should Know About Personal Accident Insurance In Germany
Personal accident insurance ensures you have financial security if a personal injury prevents you from recovering to the fullest extent of your ability. Depending on your chosen tariff, you have a variety of alternatives for receiving financial protection here. If you choose a lifetime annuity, you will continue receiving regular payments at predetermined periods as long as you live. The option of getting a lump sum payment is an additional choice. You can also decide to get both of these options at once.
Private insurance offers you around-the-clock, global protection, in contrast to state insurance. It operates under the premise that the sum insured should cover all expenses incurred as a result of your disability. These expenses could include the cost of care, whether long-term or short-term, the cost of making changes to your home or vehicles, etc.
It's crucial to remember that this insurance does not cover lost wages. To have the loss of income reimbursed, you must purchase occupational disability insurance.
If you want stronger protection than an accident insurance annuity, opt for occupational disability insurance. This is because it also offers coverage for disability brought on by sickness. This is why picking an accident annuity only makes sense if you cannot purchase occupational disability insurance owing to health concerns.
Consider first how much money you would require to live as comfortably as possible in the event that an accident caused you to lose your total capacity while determining the appropriate insurance amount. Once the money is chosen, you can begin looking at your possibilities. Configure your accident insurance coverage with regard to the rewards in the case of an accident based on your desired insurance model. The basic sum insured amount that you need to obtain your desired coverage can then be calculated.
Statutory Insurance Coverage
One of the first types of social insurance in Germany is the statutory occupational accident insurance. Statutory occupational accident insurance is contribution-free for those covered, in contrast to health, long-term care, pension, and unemployment insurance. Employers are responsible for paying the costs of comprehensive insurance coverage for prevention and rehabilitation. The federal, state, and municipal governments pay the costs of employment in the public sector.
The pay-as-you-go principle is used to determine the contribution rates based on previous years' spending. This means that the statutory accident insurance funds divide their expenses among their member companies at the end of each fiscal year. The computation relies on setting aside the allocation amount, considering the insured's wages and salaries, and taking into account the danger class of the specific industry in question.
Approximately 1 million accidents involving workers who are either at work or en route to or from work occur each year in the Federal Republic of Germany. These figures include around 18,000 cases of recognized occupational ailments and 1.2 million school accidents. Consequences for people impacted can involve significant adjustments in their way of life. Statutory accident insurance's responsibility is to restore these people's health and, to the extent possible, their capacity to work.
All employees and trainees are required to have and are provided with statutory occupational accident insurance. The employer's liability insurance fund handles accident insurance in industry and agriculture (Berufsgenossenschaften). The municipal accident insurance associations (Gemeindeunfallversicherungsverbände) and other public-sector accident funds offer coverage in the public sector.
Statutory occupational accident insurance has the responsibility of taking action to stop work-related diseases and accidents as well as to safeguard employees from potential dangers. Accident insurance assists in restoring the health and working capacity of those involved in accidents or diseases at work. It compensates the insured, their dependents, or their survivors through the provision of monetary payments.
According to the law, the main goal of statutory occupational accident insurance is to utilise every tool at its disposal to prevent occupational accidents and illnesses from happening in the first place and to reduce any potential workplace dangers. The emphasis is on guiding businesses on all industrial safety and health issues. This entails offering thorough instructions and guidelines to companies and employees and access to global media. Additionally, accident insurance companies host free educational and inspirational programmes on workplace safety.
Statutory occupational accident insurance covers the expenditures associated with an occupational illness or injury at work. This means that in addition to offering the best possible medical, occupational, and social rehabilitation, the insurance fund may also offer cash compensation in some circumstances.
Key Features of Accident Insurance in Germany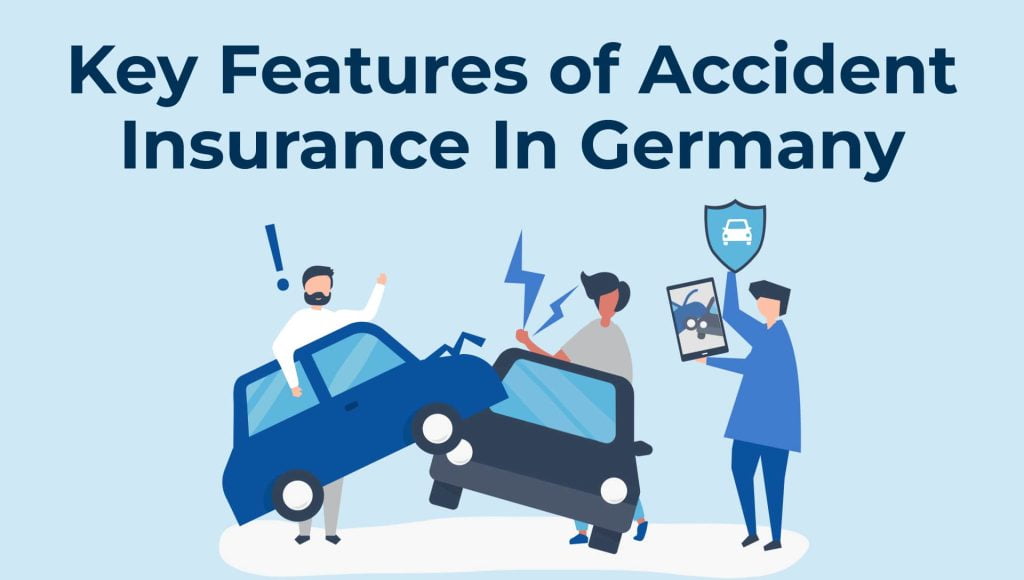 Mandatory Coverage
Accident insurance in Germany is compulsory for employees, including part-time and temporary workers, apprentices, and students undergoing vocational training. It is typically provided by the employer.
Coverage Scope
Accident insurance covers accidents in the workplace, during leisure time, at home, or anywhere else. This extensive coverage ensures that individuals are protected around the clock.
Medical Treatment
Accident insurance covers the cost of medical treatment required as a result of the accident. This includes hospital stays, surgeries, medications, and rehabilitation services.
Disability Benefits
If an accident results in a permanent disability that affects the individual's ability to work, disability benefits are provided. They determine these benefits based on the degree of disability and its impact on earning capacity.
Survivor Benefits
In the unfortunate event of a fatal accident, accident insurance provides survivor benefits to the deceased's dependents, such as spouses and children. These benefits can help support the family financially after losing a loved one.
Compensation for Temporary Disability
If the accident results in temporary disability, which prevents the individual from working for a limited period, accident insurance compensates for the loss of income during that time.
Rehabilitation Services
Accident insurance also covers rehabilitation services, such as physical therapy and vocational training, to help injured individuals regain their physical and professional capabilities.
No-Fault System
Germany's accident insurance system operates on a no-fault basis. This means that individuals are eligible for benefits regardless of who is at fault for the accident, as long as it occurred during work or leisure activities.
Dual Insurance
Some individuals may also have private accident insurance in addition to the mandatory coverage. This can provide additional benefits and coverage options.
Accident Insurance at the Workplace
Your employer funds occupational accident insurance, which covers accidents at work. If you are employed or enrolled in training, you are immediately covered, regardless of your income.
Statutory occupational accident insurance covers students, as well as children in schools and nurseries.
Insurance is not legally necessary for self-employed people, business owners, or freelancers. But if your spouse also works for you, you can both purchase voluntary insurance.
State occupational accident insurance offers the following in the case of an occupational accident or occupational illness:
the cost of comprehensive medical care.
support with the transition into the workforce, including retraining if necessary
Support for social integration and further help
cash benefits for the insured and their surviving dependents
Holiday Accident Insurance
Germany is generally a safe country to visit and travel to. But then, accidents do happen sometimes to tourists. If someone else's negligence causes you to be hurt in a preventable accident, you have the right to file a holiday accident claim in Germany.
In Germany, road traffic collisions are the most frequent accidents that visitors experience. This can apply to both motorcycle and automobile collisions. Due to the popularity of sporting activities like skiing, claims involving those and other adventure sports are also frequent here.
Now, what do you do if you meet with an accident while you are visiting Germany?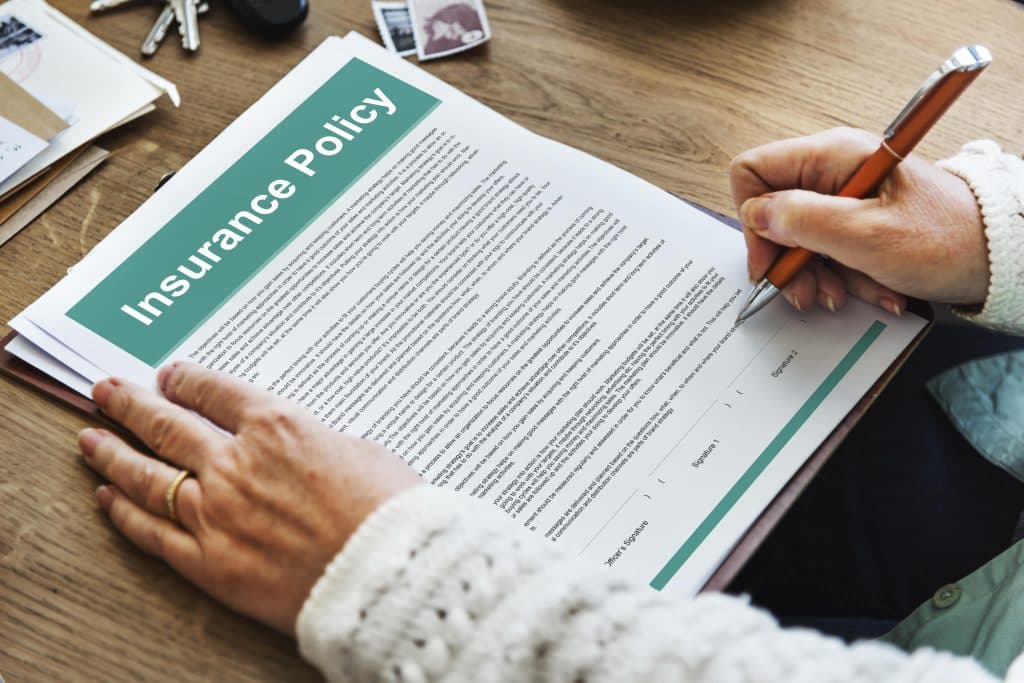 First and foremost, collect as much evidence as possible regarding your unfortunate incident. These could include:
Making a note of the wounds you have suffered.
Documenting the accident scene using photos. If you have a snapshot of the danger that led to your accident and can get a date stamp on it, all the more reason to do this.
Speaking with everyone who saw the accident, noting their contact information in case they need to testify as witnesses in support of your medical malpractice lawsuit.
Suppose you were in a motorbike or car accident in Germany. In this case, you should speak to the driver and acquire their details. This includes contact information, the number plate number, and vehicle's owner information (if the driver is not the owner).
Gather details on any medical care you received in the immediate aftermath of the accident. Or that you are still receiving as a result.
You can recover costs associated with your injuries if you keep the receipts for any expenses you incurred as a result of your injury. This could include the cost of additional care, medical charges, or transportation.
If your accident required quick medical attention because it was serious. Once you have received medical attention, you should go back to the accident scene and gather as much documentation as possible.
Notifying the appropriate parties about an accident caused by someone else's carelessness is critically important.
For instance, if you are travelling with a tour operator, you should make sure to notify your tour operator of the incident. If the careless operation of a package holiday service, such as your lodging or transportation, leads to you becoming ill or having an accident while on holiday, the Package Travel, Package Holiday, and Package Tour Regulations of 1992 entitle you to compensation from your package holiday provider.
Time limits for filing claims for Compensation
There are various possible time constraints for filing a compensation claim if you were involved in an accident, illness, or injury while travelling to or from your vacation in Germany.
The time limit is three years for incidents that occurred on a bus, ferry, or airline going to or coming from Germany, as well as in lodging or on trips reserved through a package tour operator.
It is up to 30 years (time restrictions may vary) for accidents, illnesses, or injuries that occurred during a vacation that was independently arranged.
The time period is 2 years for a flight that was independently booked to or from a German international airport.
Making A Holiday Package Claim in Germany
Under the Package Travel, Package Holiday, and Package Tour Regulations of 1992, if the tour operator is at fault for an accident in Germany that causes you harm in Germany, you may have the option to file a package vacation claim against the tour operator.
Popular tour operators, including Tui, Thomas Cook, and Inghams, offer holiday packages to Germany.
Hotel Accident Claims in Germany
First off, German hotels often have pretty high requirements for health, safety, and hygiene. However, accidents do unfortunately happen.
A hotel guest, tourist, or employee has the right to file an accident claim for compensation if they sustain an injury as a result of the hotel's negligence, such as lax health and safety standards.
In hotels, the most frequent preventable accidents include slip, trip, and fall injuries caused by slippery floors, trip hazards, and poor illumination. Swimming pool accidents can occur due to a lack of lifeguards, and negligent administration of other sporting and recreational facilities. Many claimants seek our assistance when they wish to file claims for vacation reimbursement due to cases of food poisoning, which can occur when hotel kitchens do not follow proper hygiene standards.
Claims for Food Poisoning and Water-Borne Illnesses
Food poisoning cases in Germany made news in 2011 after an E. coli outbreak brought on by imported cucumbers resulted in 14 fatalities and hundreds of critically ill people. Many injured parties sought compensation as a result. Although instances like this are uncommon, claims for vacation reimbursement for food poisoning or contracting water-borne illnesses sometimes happen in Germany in establishments where visitors eat and drink, such as hotels and restaurants.
Food poisoning is typically brought on by careless handling, preparing, and serving of food and beverages, such as breaking proper hygiene requirements. If you had food poisoning in Germany that wasn't your fault, you could be able to file a claim for vacation compensation for food illness. Depending on the severity of your injuries, your claim might be worth tens of thousands of pounds or more.
Administration of Accident Insurance
A state-run organisation administers accident insurance in Germany called the "Deutsche Gesetzliche Unfallversicherung" (DGUV), which translates to the German Social Accident Insurance. The DGUV is a central umbrella organisation coordinating accident insurance nationwide. However, each state in Germany has its own regional accident insurance association that manages the day-to-day operations and claims processing.
Funding and Contributions
Funding for accident insurance primarily comes from employers who are required to pay contributions based on their employees' salaries.
Employers deduct accident insurance premiums directly from employees' gross salaries, rather than employees contributing directly.
The contribution rates vary depending on the type of industry and the risk of accidents associated with the work.
Claims Process
When an accident occurs, the injured party must promptly report it to their employer. The employer is responsible for initiating the claims process, which involves notifying the relevant accident insurance association. Medical professionals assess the extent of the disability if the accident results in one, and the injured party then receives the necessary medical treatment. Compensation and benefits are determined based on the severity of the injury or disability.
No Win No Fee Claim
If you were injured in an accident while on vacation in Germany, you may be able to file a no-win, no-fee claim.
What does a no-win, no-fee claim mean?
The attorney will present you with a Conditional Fee Arrangement (CFA), which states that you will only pay your attorney's fee if your vacation accident claim is successful.
Many claimants believe it to be the more economical choice because there are no upfront costs or ongoing costs as your claim is processed. Many people find it to be less stressful because there is no financial risk involved, and you only pay your fee if you are successful in your claim.
Conclusion
Accidents can happen to anyone, anywhere and at any time. They are unpredictable and can often hugely impact the train of life itself. No one can be fully prepared to face an accident. The emotional and physical toll it takes on a person is entirely unimaginable.
But, one can be financially prepared to encounter a sudden ill fate. Accident insurance is the safety net that can help us eliminate at least one less element of pain, loss of money and our hard-earned savings.
The mandatory coverage and robust benefits of German accident insurance play a vital role in ensuring those who live in the country and help them navigate the uncertainties that an accident can bring forth!